Obituary for Anne Jeffrey (MacKinnon)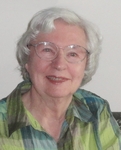 Anne MacKinnon Jeffrey died peacefully at Queensway Carleton Hospital at age 89. She was predeceased by her sister, Catharine MacKinnon Read with whom she evacuated to Canada from Scotland as teenager. She did not stay in Scotland after the war and returned to Ottawa; where she met Ian on the tennis courts behind the Civic Hospital where he was interning. Anne is survived by her husband of 66 years Dr. James Ian Jeffrey. She was always proud of her four children: Janet (Art Huber) who live in Markham; Allan and his sons Jordan and Nolan who live in San Diego – Jordan and Angela have a son Crosby who recently met his great grandmother; George (Jean) and their four sons Scott, Jake, Ben, and Tyler who live in southwestern Ontario; and Laurie (Hans Wytenburg) and their children Kristy-Anne (at Brock U), Alexander (at Carleton U), Kathryn, and Carolyn who live outside of Renfrew. At Anne's request, there will be no service; she preferred visits that included keeping a vase of flowers filled. Private internment. Comments here welcome and will be shared with Ian, as will photos. Donations in Anne's name to Unitarian House appreciated; to make a one-time gift by cheque, please send your donation to: Unitarian House, 20 Cleary Avenue, Ottawa, Ontario K2A 3Z9. A form can be downloaded from http://www.unitarianhouse.ca/documents/donateform.pdf; and mailed with information about payment method, note in memory of Anne Jeffrey.

ANNE AND IAN WOULD APPRECIATE A DONATION SO MUCH MORE THAN LIGHTING A CANDLE OR SENDING FLOWERS.